World Cup Story: 1930-1990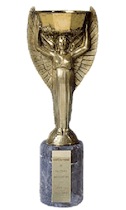 In 1928 the President of FIFA, Jules Rimet invited all FIFA countries to play together in a 'football Olympics'. Thirteen entered the first Jules Rimet Trophy or World Cup in 1930.

Can you guess which countries competed in that first competition? And which country has competed in every tournament since? Check your answers
here
Fun Fact Quiz
*
Brazil
*
Crossword
*
10 Best WC Games?
*
Best Tournament?
*
Best World Cup Goal?
Or
this one
?
Best save?
*
Best Goal?


Have you read 'The Big Match'? Try a sample chapter & audio here: